Upgrade your footwear for Winter when the temperatures become Frigid with Footwear from Merrell that has The Outdoors #1 Hiking Boot. At The Right Shoe we are selecting this season to upgrade your closet with the Moab FST Waterproof and the Capra Bolt Air from Merrell. Enjoy Merrell M Select™ Grip out soles is highly slip-resistant stability on wet & dry ground and over mixed terrain. Merrell dependable Vibram® MegaGrip provides traction and durability for both wet and dry surfaces.

The M

oab FST Waterproof , offered in the Sea Pine and Boulder , is a traditional mesh with a Thermoplastic Polyurethane ( TPU) upper with superior traction and all day comfort. With the thermoplastic Polyurethane upper this feature of the Moab FST (Waterproof) acts as a barrier and is excellent for lower temperatures and enhances abrasion resistance and resistant to oils, grease and liquids. As you venture off while traveling to friends and family this season the Moab FST waterproof and TPU features will keep your feet dry and warm.
The Mer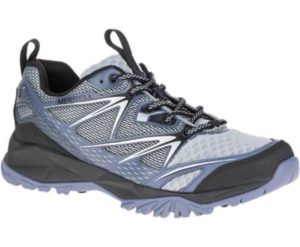 rell Capra Bolt Air offered in the Folkestone ( purple) and also Mykonos ( Blue) for women and also the Grey and Poseidon ( Blue) for men at The Right Shoe . The Capra Bolt Air is light and breathable mesh athletic hiker and has a hoof-inspired outsole for agility and speed. Carry on the Merrell's standard the Merrell M Select™ FIT.ECO blended EVA contoured footbed with EVA midsole for stability and comfort in the Capra Bolt Air.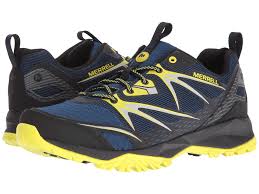 When you are thinking to Upgrade your Winter footwear wardrobe think Merrell and The Right Shoe this Season. While shopping for friends and family or if you want to drop a hint in someone's inbox Ask about our Holiday Gift Registry. As you dash to the festivities to celebrate the season POP in and see us at The Right Shoe and see the Moab FST and the Capra Bolt Air from Me
rrell. The Right Shoe is located in York, Lancaster and our newest location in Lititz Pennsylvania.