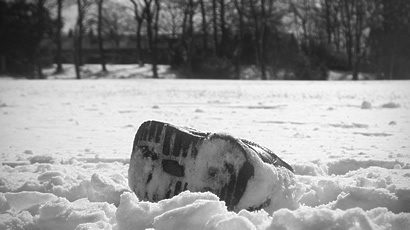 Of all the seasons, winter is most brutal to your skin, clothing, and about all your shoes. Winter's harsh elements tend to wear your shoes out. Salt stains emerge after the first few snow falls, and ugly cracks form in leather and or suede styles after weeks of damp weather. There are a few things you can do to ultimately protect your investment and to keep your winter shoe styles looking their best throughout this harsh season ahead of us.
Leather
Making sure you clean the leather regularly during the winter season is key to prolonging the lifespan of leather footwear. Remember to re-clean and condition at least twice more during the season to provide protection against harsh conditions and before storing during the summer months.
Suede
Suede is a common material used in fall/winter style shoes. A suede protector is highly recommended due to them being formulated to repel water from the surface of suede, which will protect its nap and color. After the suede protector has dried thoroughly, the surface of the suede should be buffed to restore the texture of the suede's nap. This could be accomplished with a suede brush or a dry towel, using a circular motion until the nap has been has been lifted from the suede's surface.
11 Other Helpful Hints to Maintain Your Winter Shoe Styles
Treating Leather and Suede with water-proofer helps to protect…
Using a Shoe De-salter can help with salt stains on leather or suede. Or use a combination of vinegar and water.
A Suede care kit can help with dirt spots or stains on suede surfaces.  You could also use a fingernail file or pencil eraser.
Try using a Suede brush/suede care kit to help restore suede's nap.  If you don't have one you could use a dry toothbrush.
Place a dryer sheet or use a shoe deodorizer spray in shoes with odor issues to absorb the odor and leave behind a fresh scent.
Never place leather shoes near any kind of heat source, as for it is very damaging to the leather
Invest in cedar shoe trees; they are made to remove moisture and odor, while the expandable toe helps maintain proper shape for longer-lasting wear.
To keep your shoes from drying out apply Leather Lotion, Mink Oil, or petroleum jelly every few months.
Remove scuff marks by rubbing the scuff with Shoe polish, scuff removers, or non-gel toothpaste, then wipe off and let dry.
Clean your shoes regularly to remove dirt, stains, and polish build up. Avoid products with detergents or acids.
Use a shoe horn while putting on shoes to avoid damage to the heel counter.