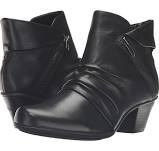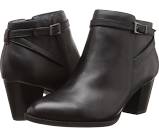 When I think of Fall I think of the leaves changing color , apple cider and candy apples and also the perfect pair of boots to add to my wardrobe. I like to celebrate the season with a  statement boot that will go with a good pair of  pants or jeans for the season.  At The Right Shoe we searched our shoe lines to find that perfect statement boot to kick off your fall . The Upton by Vionic, and the Pegasus by Earth is trending a  very sophisticated look in a  black boot in two very different posh and chic styles .
The Upton ankle bootie by Vionic is forward chic in a black with a strap and buckle detail with a discreet side zipper in a 2 ½ inch heel.  The Upton has the removable microfiber-covered EVA orthotic insert option for those who have orthotics. For those who Love the Vionic's podiatrist designed orthaheel technology this is the must-have boot for you  as you visit family and friends this season.  
Pegasus by Earth will add some flair to your daytime or date night look.  Earth brand's exclusive comfort foot bed  to cushion your foot from heel to toe and cushioned arch support will provide your feet with all day comfort.  The Pegasus is  a legend of its own with premium leather upper with glove-soft leather lining that will add taste and class to your apparel on a special occasion.  So, head out to The Right Shoe (York, Lancaster, Lititz Pennsylvania) where comfort meet fashion everyday.