No better time to head out to update your wardrobe than with two timeless classic that never go out of fashion. Earth offers two very different everyday styles that will complement your Fall wardrobe essentials. The Wanderlust  by Earth is back again at the Right Shoe debuting their new colors in the  Rosewood and the Admiral Blue and the  Black and Bark will be returning for fall.  This  timeless Mary Jane classic with beautifully pleated details with a peekaboo t – strap in a 2- inch heel that will be striking with an  A- line skirt or a pair of cuffed jeans for a casual sophisticated  look . The Anise, a slip on with a side zipper featured in black and bark by Earth is an update of an older style called the Savin that everyone will love.  
As the Wanderlust and the Anise go toe to toe in comfort  is uncompromising. The Wanderlust construction  with a premium leather upper and soft leather lining  cushion arch support for all day comfort. The Anise is no exception keeping with Earth's philosophy combining state of the art comfort to great style you will find this slip on has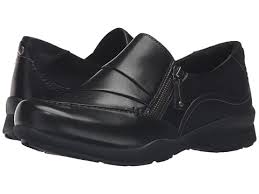 much to offer to your fall  wardrobe . The  Anise comfort and style go together in a premium leather upper with a  glove-soft leather lining matched with Earth's  cushioned arch support to wear all day.

Earth's philosophy is  a simple approach to shoes is to make your feet feel comfortable and to also  love the way you look. Go try a new twist on an old favorite the Anise is a streamlined casual slip on, with the option of a removable insole for orthotics. For this season make a statement in the Wanderlust in the Rosewood this new addition will give you some flare in your fall wardrobe this season. Whether your are looking for  a classic look or a bold look or something  casual  there is The Right Shoe for You.