Our feet and shoes take a beating every day. With the average American taking 8,000 steps a day it's no wonder our shoes can wear quickly. Here I see the different wear patterns on shoes, and most of the time I get a pretty good idea of what's going on. The wear pattern of a shoe can be an indicator about your health and feet. This prompted me to do a little more research on the subject (I love knowing all about what I do, and sharing it with everyone I can).
It's always a good idea to take a look at your worn out shoes. Compare them to other shoes you have worn, most likely the wear patterns will be the similar. Getting to know how your shoes wear can help you figure out a little more about you. Different wear patterns can indicate an underlying problem, and knowing this early is the best way to prevent future injury.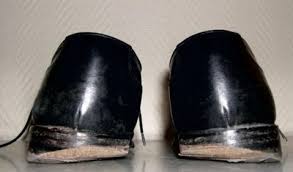 Inside of the heel is worn? When you look at your shoes are they wearing in a specific area of the sole? If that area is the inside of the heel, you are a pronator. Pronation is very common for people with flatter feet and fallen arches. When your arch falls your calf muscles usually tightens, which can cause cramping or swelling inyour legs. Pronating can also indicate problems with the knees, hips, and back (or be the cause of it). What should you do if you're a pronator? It's all about getting your gait straightened and corrected. Physical therapy is always a great idea to get you on the right path. Some important things to consider are shoes and insoles! Looking for good supportive shoes that won't allow you to roll your foot inwards is a great start. Orthotic insoles bring new life and support into the shoes you already have. They support your arch and push your foot outwards. Custom orthotics are available at the podiatrist office for severe pronators. We carry over the counter orthotics at The Right Shoe for those light-mild pronators.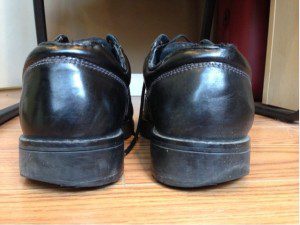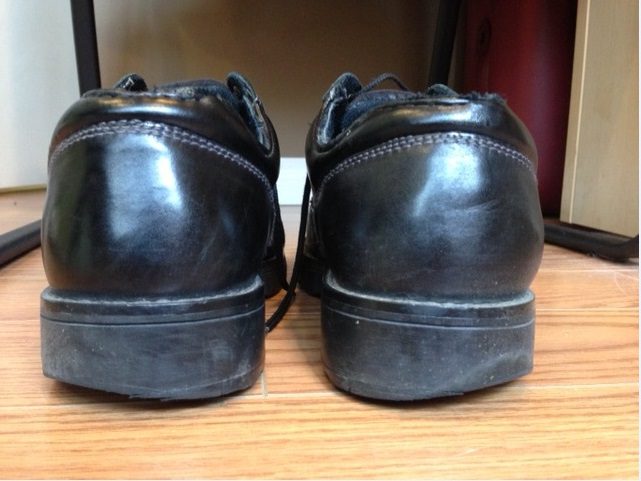 Worn on the outside of the heel? If your soles are wearing on the outside of your heel you are turning outwards. Turning outwards means you are a supinator. Most supinators are people with high arches that don't flatten their feet as they walk, pushing their gait outwards. This type of person is more prone to ankle injuries and sprains. They are also more prone to knee and hip problems as well. What you can do is work on changing your gait to walk with a mid-heel strike. This is hard for most people to do alone, so professional physical therapists are always there to help. New supportive stability shoes are also very important in keeping everything straight.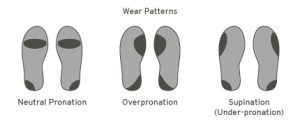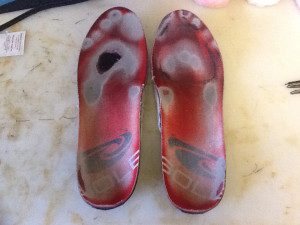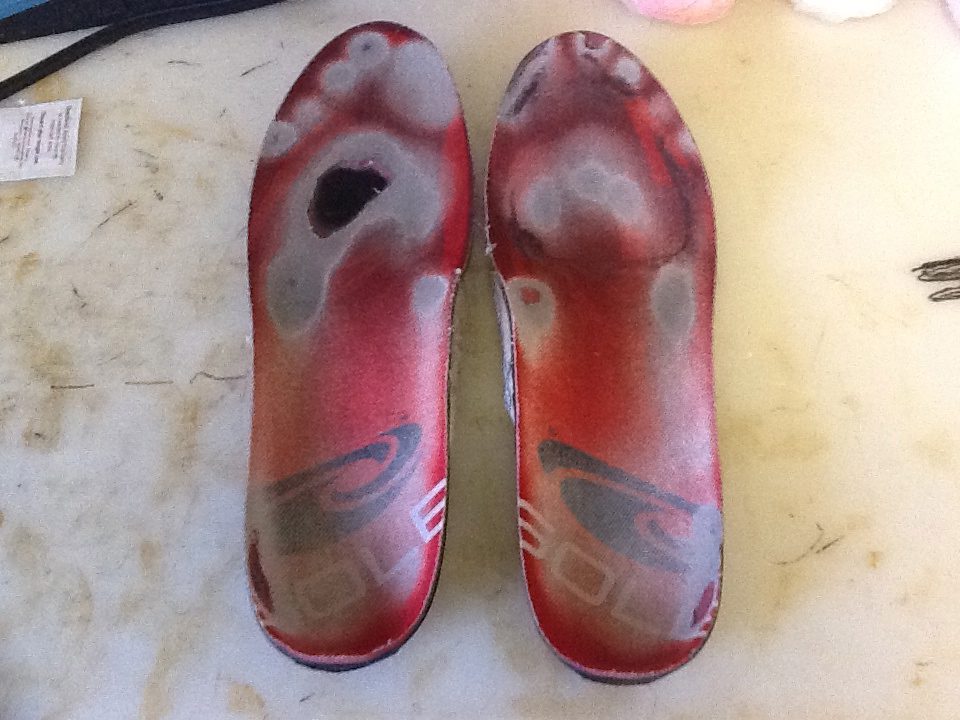 Ball of your foot wearing out? This could indicate different things. Toe walkers usually experience this sort of wear pattern. Also, people with a tight Achilles tendon will strike with the forefoot first causing this sort of wear. Bunions and bone deformities can cause your shoes to wear up front as well. Again, training yourself to walk correctly is key! Orthotics and therapy are a great way to train yourself to walk with a straight gait.
It's always a good idea to keep an eye on any health indicators, knowing early is the best prevention. If you think you're gait is incorrect, treat your feet to some new shoes and orthotics!