Two Power Work Boot Companies go STEEL-to-STEEL in a Smack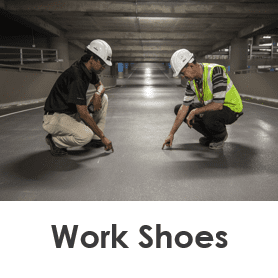 Down Competition to see who measures up  to be the Best Work Boot  for YOU !!  Technology in a Composite Toe Work Boot that will  Hit Hard when Life Gets in the Way.  The Right Shoe we bring Two of the Prestigious Work Boot brands together under one roof for Our Customers.  We are Proud to introduce to you the Powertrain Sport by Timberland and the  Chromatic by CAT.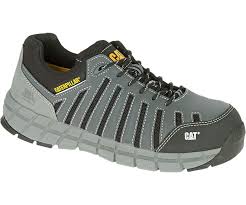 The Chromatic by CAT is a composite work shoe  with Electrical Hazard construction that protects the wearer against open circuits up to 600 volts in dry conditions,  Rated ASTM F2413-05 1/75.  A Steel Midplate designed to protect objects from puncturing the sole and meets ASTM F2413-1PR Standards.  The Chromatic offers VISIFLASH a High Visibility Material by CAT that is built to keep workers safe in low light conditions leaving other work boots in the Dark.  The ERGOLITE is a lightweight performance material that is  engineered for comfort in a work boot .   EASE  by CAT is a Foam Sole that integrates 3 Layers of Technology into 1 layer of  comfort and and  durability in a outer sole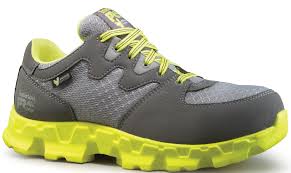 .        
Timberland Powertrain Sport is a lightweight that hits hard with an Alloy Safety Toe asymmetrical-shaped toe cap that meets with   I/75 and C/75 impact and compression ASTM F2412-11 and ASTM F2413-11 safety standards.  
Are Your Feet Tired?  Timberland's Powertrain Sport with Anti Fatigue inverted cone technology will absorb shock and return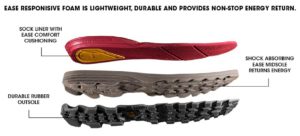 energy to targeted key zones of the foot to provide comfort with every step.  Timberland PRO® 24/7 Comfort Suspension™ technology supports the arch of the foot and reduces fatigue with every step.     If  you are looking for work boots that meet SD Static Dissipation ASTM F2412-11, ASTM F2413-11 and ASTM F2892-11 safety standards for your work place then Timberland Powertrain Sport  is the work boot for you !
If you are looking for a specific work safety  regulations you need in a composite toe work shoe at The Right Shoe we are here to make sure you find The Right Work Shoe for You .